Meet our Chapter Board
Directors Serve for Three Year Terms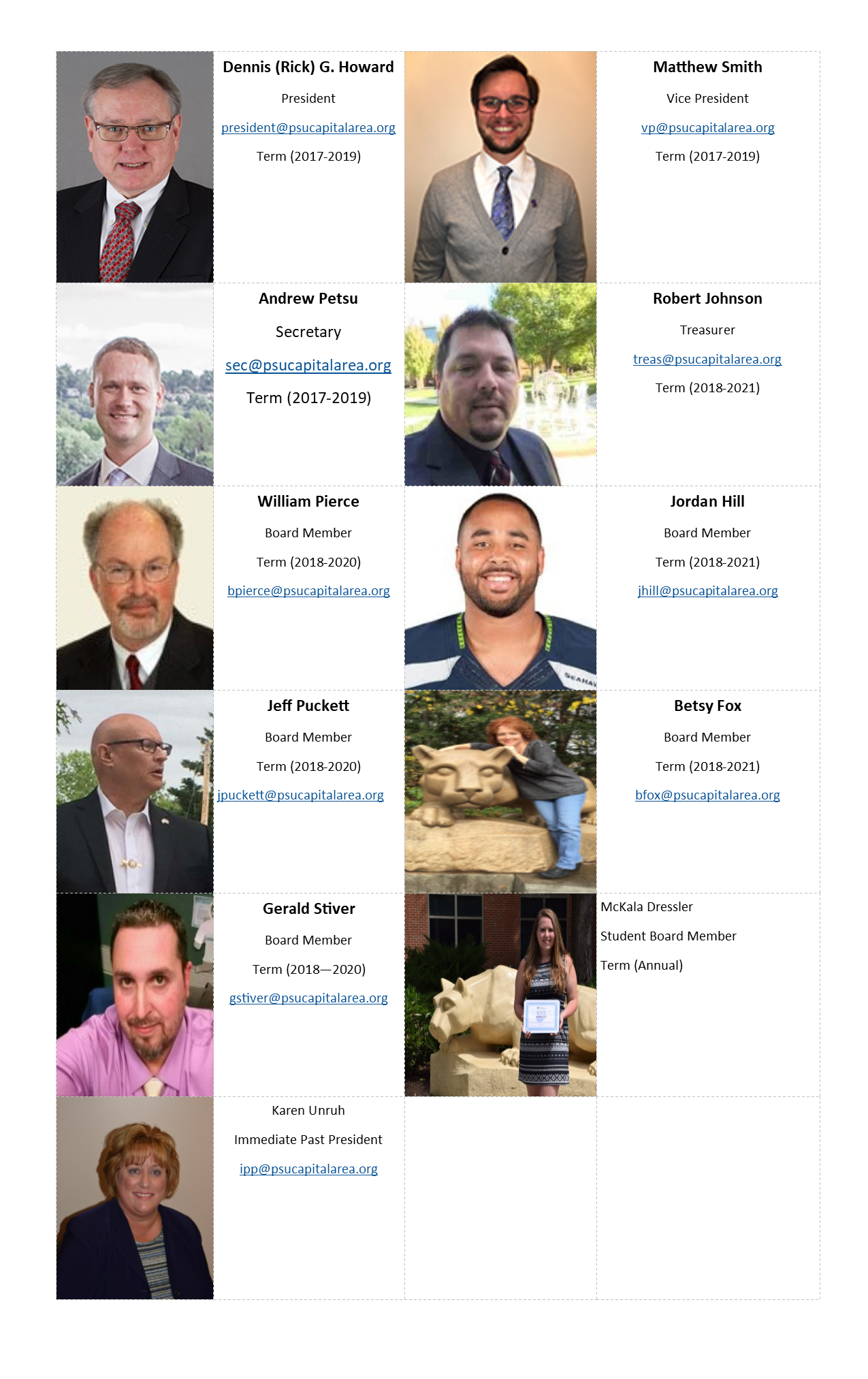 We are currently seeking 3 board members that will fill the seats of the expiring terms on June 30, 2019.
If you are interested in being considered by the nominating committee for a board position, please download and complete the following application and return via email to nominationcommittee@psucapitalarea.org by April 30th, 2019. You must be an active paid member in good standing of the Capital Area Chapter of the PSAA and a paid member in good standing of the Penn State Alumni Association to be eligible to be considered for a board position. Please review the Board Member Agreement. You will be required to sign the agreement prior to taking office.
Per the Chapter Bylaws, all eligible applicants will be reviewed by the Nomination Committee based on their experience and skills. The committee will select the recommend slate based on the qualifications and the current needs of the Chapter. A recommended slate will be referred to the full Board for approval. The approved slate of candidates will then be forwarded to the full membership for approval. If you have submitted your application and are not selected by the Nomination Committee you can request an appeal per the process as outlined in the By Laws of the Chapter. If you have any questions related to the process or the roles and responsibilities, please reach out to us at nominationcommittee@psucapitalarea.org.
---
---
Past Presidents
Joshua R. Hoch '09, '14g
President Emeritus (2017-2018)
Immediate Past President
2015-2017

Richard N. Nichols '75
President Emeritus (2015-2016)
2013-2015

Nikos Phelps '07
2011-2013